It's that time of year, everyone wants to turn round in a year's time saying they told you so. Rather than try to predict who's going to dominate the charts next year the Drums Eat Everything 'One's To Watch' is a list of some of the most exciting breaking bands you're going to want to know about. No chart positions, just great new music to explore:
The Neighbourhood
How this California five piece aren't on more 2013 hit lists is beyond me.
Started as a band with guitars playing hip-hop, they are quick to dispel the indie band tag, seeing themselves as much more genre blending, with hints of the so-hot-right-now R 'n B revival.
The Neighbourhood sound like the only guitar band who could shake dance music's dominance, just a little.
Their debut album comes out on Columbia in March.
thenbhd.com
facebook.com/TheNeighbourhood
Joey Bada$$
17 year old Brooklyn rapper Joey Bada$$ has been causing a huge stir over the last few months, with many declaring him one of the most talented emcee's to emerge from New York City in years. Unlike fellow New Yorkers A$AP and Odd Future, Bada$$'s tracks are heavily sampled and make no claims to be futuristic boundary pushers, with actual-back-in-the-day 70's and 80's hip hop samples giving his tunes a vintage feel, albeit with reprogrammed beats. His flow is natural and the high school kid's name is getting more renowned.
theproera.com
facebook.com/fckingbadass
Santiago Street Machine
Manchester trio mixing hooky songwriting craft with dance beats, deep bass and soaring synths.
They strive to be different with their live band/club mash ups and extra curricular activities, which include; label bosses (Hijacker Records), promoters (Santiago Street Machine Presents), festival coordinators (UV Festival), remixers (credits include Alt J and Beardyman) and DJ sets.
With their debut album set to drop in the spring on Hijacker Records, expect exciting things.
Saint Lou Lou
Not the first Scandinavian pop act to feature on this blog and no doubt not the last, sisters
Elektra and Miranda Kilbey have grown up flitting between neighbouring Denmark and Australia. Darkness and summer consequently influence the music they're making now that they're bored since finishing school. Strong cheekbones, thunderous yearning and 'a depressed tATu' are all tags quite rightly thrown at them and their rich melodic mastery.
They plan on moving to London to finish their album which we can expect some time in 2013, courtesy of
Kitsuné
.
saintloulou.com
facebook.com/SaintLouLou
DJ Carnage
Collaborations with A$AP Rocky, Waka Flocka Flame, Chris Brown and Dev have helped LA based Carnage get his name about. Couple that with the rise of Trap as the next chapter in EDM's world domination and you've got a guy who's already been labelled the next super producer. Half time beats, hip hop vibes, drops and heavy bass = Big.
djcarnagemusic.com
facebook.com/djcarnageofficial
Haim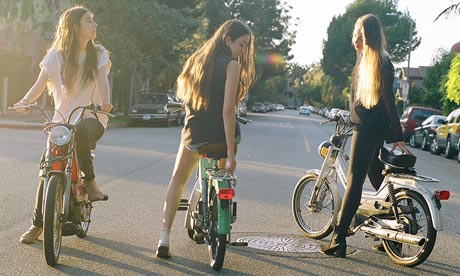 There's an air of Fleetwood Mac-y folk infused retro-pop from these LA sisters, mixed with some warm organs, percussive jitters and wide-as-you-like breathy vocals. Effortless pop which sounds like it's come from a sunny place. Funny than.
Haim's debut album is out in the spring of 2013 on Polydor.
haimtheband.com
facebook.com/haimtheband
.... and that's your lot. See you on the other side.